Joe Frick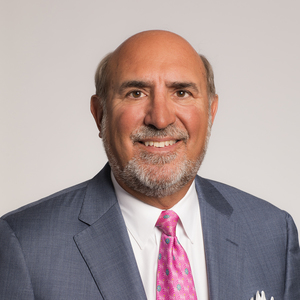 Joseph A. Frick currently serves as a Senior Advisor to Diversified Search. He joined the firm in May, 2011 and held the role of Executive Vice Chairman until October, 2016. During his tenure, Mr. Frick provided advisory services to CEOs and conducted senior executive and corporate board searches for a range of clients in Business, Education and Healthcare. He has also been actively engaged in the firm's business strategy, branding, and expansion initiatives.
Prior to joining Diversified, Mr. Frick served as President & CEO of Independence Blue Cross and is currently a Board and Executive Committee member of the Independence Blue Cross Board of Directors. Mr. Frick also currently serves as a Director for two publicly-traded companies in the health care sector; Triple-S Management Corporation (NYSE: GTS) and BioTelemetry, Inc. (NASDAQ: BEAT).
As CEO of Independence Blue Cross, Mr. Frick spearheaded the creation of IBC 2010, a long-term strategic plan for the company. He formed a new senior leadership team and launched key initiatives to achieve the company's goals. Under Mr. Frick's leadership, IBC enhanced its standing as a trusted and respected corporate leader in the Philadelphia community. Prior to becoming CEO in 2005, Mr. Frick served as Independence Blue Cross's Senior Vice President of Human Resources and Administration. In this capacity, he was responsible for corporate planning and business development, human resources, and administrative services. Before joining Independence Blue Cross in 1993, Mr. Frick was Vice President of Human Resources at Philadelphia Newspapers, Inc. (PNI), which published The Philadelphia Inquirer and the Philadelphia Daily News. He joined PNI in 1987.
Early in his career, Mr. Frick worked for Westinghouse Electric Corporation, holding a variety of managerial positions in operations, administration, and human resources.
Professional Activities & Achievements 2011 William Penn Award, the highest honor bestowed by the business community of Greater Philadelphia Appointed by Mayor Michael A. Nutter, Chair, Philadelphia Works, Inc. (City's Workforce Development Entity) (2011-2014) Doctor of Business Administration, honoris causa, 2011, Drexel University Greater Philadelphia Chamber of Commerce, Chairperson (2006-2007) 2010 United Way Southeastern PA Annual Regional Campaign, Chairman La Salle University, Board Member (2005-2015) Colon Cancer Alliance, Board Chair (2016-present), Board Member (2008-present) PNC Bank, Member – Regional Advisory Board (2006-present) Hope Award from the Multiple Sclerosis Greater Delaware Valley Chapter Anti-Defamation League's Americanism Award Citizen of the Year Award from the American Red Cross Southeastern Pennsylvania Chapter NACD, Board Leadership Fellow University of Pennsylvania, Perelman School of Medicine, External Advisory Board (2014-present)
Education BA, Liberal Arts, University of Notre Dame MBA, Management, Loyola University, Maryland