Phenomenal Women of AltoPartners – Molly Brennan
May 22, 2023 Share this article:
This week we are delighted to feature Molly Brennan, Global Managing Partner - Nonprofit Practice Lead at Koya Partners / Diversified Search Group (AltoPartners USA), who left journalism and discovered her calling: Finding exceptionally talented people to lead mission-driven organizations and non-profits across the globe.
Where were you born?
I was born on Martha's Vineyard, in Massachusetts and grew up mostly in Boston and Connecticut.
What was your childhood career dream?
I was torn between being an actor and a lawyer.
So where did the Anthropology and History degree come from?
I studied Anthropology and History in college because I was, and still am, fascinated by people and social constructs and what we can learn from the past.
Was that your first job?
My first paying job was babysitting. I progressed to picking strawberries on a nearby farm and later worked in an ice cream shop during high school.
Are you currently studying?
Not formally, but I am famous for my deep dives into a variety of topics, from Coen Brothers movies to organic vegetable gardening!
You spent almost a decade as a journalist and editor. How did you get into executive recruitment?
Like many of us, I was recruited. The timing was right to try something completely different, and as it turns out, this work is a great fit with my strengths and interests.
What motivates you to do what you do?
It's a privilege and an honor to engage with change-makers in the mission-driven sector day in and day out. Meeting, working with, and learning from people who have dedicated their lives to making the world a better place is a constant motivator.
Do you have a mentor? What's the best piece of advice you've heard so far?
I don't have a formal mentor at this point. But the best piece of professional advice I've received along the way is something that I try - and often fail- to apply throughout my life, and that is: Focus on what you can change and what you have control over and try not to expend energy on things that you can't change.
What advice would you give your younger self?
I'd tell my younger self to be more open to critical feedback- to seek it out more than accolades or recognition. It's rare to get constructive feedback, but it's truly a gift.
How do you relax and unwind?
I read a lot, and I spend as much time as I can outdoors. But more than anything, spending time with my family, both immediate and extended.
Do you have a superpower?
I think it would probably be the ability to connect with people from different backgrounds. I am truly interested in people and in how they think and live. I think being genuinely interested and curious about the people I meet allows me to make authentic connections.
What languages do you speak?
There was a point in my life when I was fluent in Spanish. Now I can make my way around a Spanish-speaking country, but not converse in depth.
Name one thing you love about the work you do.
The incredibly talented and passionate nonprofit and social impact leaders that I'm fortunate enough to engage with every day. It's awe-inspiring and gives me such hope for our world and humanity.
What book are you currently reading?
Tomorrow, and Tomorrow, and Tomorrow by Gabrielle Zevin (Amazon's Best Book of 2022 and winner of the 2022 Goodreads Choice Awards for Best Fiction).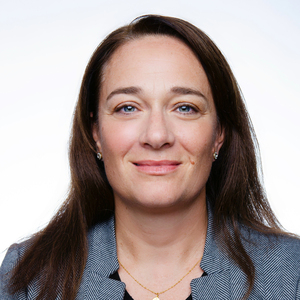 Related Practice