Jean-Philippe Saint-Geours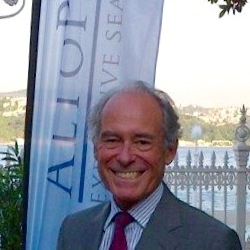 A graduate from the Institut d'Etudes Politiques de Paris, the Law University of Paris and the Ecole Nationale d'Administration, Jean-Philippe Saint-Geours started his career as a civil servant in the Ministry of Economy and Finance and in the Ministry of Industry.
He also spent two years as an Advisor to the French Prime Minister, before being appointed General Manager of the Paris Opera (1983-1989).
In 1989, he joined Publicis Group as General Manager of "Medias et Régies" branch (space and air selling and marketing).
He entered executive search in 1995 with Heidrick & Struggles as a Vice-President in Paris, served as Managing Partner of the firm for France, and was named a Vice Chairman in 2002.
Jean-Philippe Saint-Geours joined Leaders Trust International in September 2003 as a Partner. His executive practice encompasses a wide variety of engagements in general management (CEO, COO, CFO, Communications, HR) and Board directorships.
His main search experience sectors include industry, distribution, media, public services, insurance and trade organizations.
Jean-Philippe Saint-Geours also extends his ability to Executive Management Review, Executive Committees and Boards of Directors assessment services. Particularly, he handles a yearly survey on Corporate Governance trends in France, and is closely involved in the Institute of French Directors (IFA) taskforces and events.
Jean-Philippe Saint-Geours is a Member of the Executive Committee since October 2005.
Member of the Operating Committee of AltoPartners since 2006, he has been Chairman of AltoPartners between 2009 and December 2014.
Articles mentioning Jean-Philippe Saint-Geours