Judee von Seldeneck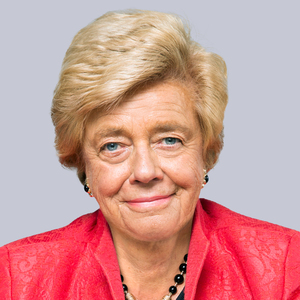 Judith M. von Seldeneck is Founder, Chairman and CEO of Diversified Search, headquartered in Philadelphia. For thirty-five years, she has been a pioneer in the search industry and a leader in placing qualified women and diversity candidates.
Mrs. von Seldeneck has received many industry and community awards and has been recognized by the executive search industry as setting the standard for retained executive search. She has been active for many years on numerous public, private, and not-for-profit Boards of Directors. She previously served on the Board of Directors of Citizens Financial Group, Tasty Baking Company, Teleflex, Inc., CoreStates Financial Group, Meridian Bancorp, and AAA MidAtlantic.
She was recently named to the Comcast and NBC Universal Joint Diversity Council and is Chairperson of the Women's Advisory Council. Some of her not-for-profit Boards include the Greater Philadelphia Chamber of Commerce (former Chair), Global Philadelphia Association, Moyer Foundation, Executive Committee of The Committee of Seventy and National Association of Corporate Directors, Phila. Chapter (Chair).
Previous Boards include Hyde School (former Chair), The Caron Foundation, CEO Council for Growth, WHYY, International Women's Forum, Zoological Society, BLOCS, Urban Affairs Partnership, Glaucoma Foundation and Private Sector Outreach Board (Chair). She was a founder of the Forum of Executive Women, the largest association of women business leaders in the Philadelphia area.
Prior to starting Diversified, Mrs. von Seldeneck served in Washington, DC as Executive Assistant to Vice President Walter F. Mondale.
Professional Activities & Achievements
Hope Award, National MS Society, Greater Delaware Valley
Hall of Fame Award, Junior Achievement
Philadelphia Business Journal 30 MVPs Award
Eleanor Raynolds Award for Excellence in Executive Search
Philadelphia Business Hall of Fame
Heart of Philadelphia Award, American Heart Association
Gardner W. Heidrick Award for Excellence in Executive Search
Women in Natural Sciences (WINS) Award, Academy of Natural Sciences
Woman of Distinction Civic Leadership Award
Paradigm Award Winner
Trailblazer Award Winner
League of Women Voters of Pennsylvania
Eagles Fly For Leukemia
Committee of 200, Founding Member
BusinessWeek, Top 50 Most Influential Executive Recruiters in the World
Education
BA, Political Science, University of North Carolina at Chapel Hill
Articles mentioning Judee von Seldeneck