Phenomenal Women of AltoPartners – Julie Garland-McLellan
August 22, 2022 Share this article:
She's been a bouncer and once dreamed of being a bricklayer, but these days Julie Garland-McLellan is most at home in the boardroom. The Sydney-based board specialist has served on a range of boards for not-for-profit, government, and publicly listed companies in the industrial and commercial sectors and is one of AltoPartners' leading global advisors on boards and governance. A longstanding course facilitator and programme developer for the Australian Institute of Company Directors, Julie was previously General Manager of the Energy and Natural Resources Practice for KPMG, and a Corporate Planner with BHP. The author of several books on boards and governance, she is regularly consulted by the media on board matters and is much sought after as a keynote speaker. Her newsletter, The Director's Dilemma, is read in 32 countries around the world.
Julie holds a BSc in Civil Engineering (London), an executive MBA (IE Spain), a Graduate Diploma in Applied Finance (SIA) and investment, and an Advanced Diploma in Company Directorship (AICD).
A bouncer? Seriously?
Not many people know this, but when I was at university I worked as a security person (bouncer) and provided door security for the Miss World pageant, several rock bands, pubs and clubs.
Was that your first job?
No. I began working while I was still at school. I taught English as a second language while growing up in Peru and exercised horses for people who only rode at weekends. Both were compatible with my schoolwork – riding at 6.00 am, then teaching English in the afternoons.
You're a civil engineer by training. How did you get into board advisory work?
I was sent by my employer to 'run the Madrid office' and discovered a consent to act as a director form in the pack of papers I had to sign. My accountant explained that I was consenting because I could go to jail if the company did the wrong thing. Strangely, I decided that I needed to know a bit more about boards and directors! I discovered that I love the team-based and strategic work environment of the boardroom and started studying boards and directorship. I don't think I'll ever stop.
What motivates you to do what you do?
I just love it. There is always a new aspect to consider. I get a real thrill out of empowering directors to do the right thing. I was once asked to do a performance review and build a skills matrix for a board that was under pressure from an activist shareholder. Some of my work was made public by the company and it helped to set the scene for better shareholder relations (including a nominee on the board) and a revitalised performance. People who say governance is just a nice to have, or only for companies that don't have any problems, completely miss the point that when you are well-governed and strategically led, you can achieve almost anything.
Did you have a mentor? And if so, what was the best piece of advice they gave you?
I have had several mentors over the years. Some of the best advice I have received was from Candy Broad, the former Australian Minister for Environment and Natural Resources – it's simple but powerful: "Don't give up." I also often refer to the advice David Crawford, the then Chairman of KPMG Australia once gave me: "Think about how you would feel if you were treated the way you are about to treat your shareholders; if it isn't a good feeling, it isn't a good course of action." It's spot on.
What advice would you give your younger self?
Relax; you will still get there without rushing. Stop and enjoy the journey.
How do you relax and unwind?
I do martial arts (4th dan Chung Do Taekwondo and 1st dan Kyokushin Karate) and I enjoy boxing – which I'm absolutely hopeless at. I also enjoy walking or just hanging out with my dog, Rupert, a retired greyhound.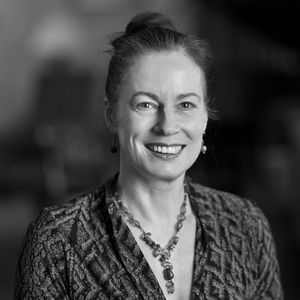 Related Practice