Phenomenal Women of AltoPartners – Patrycja Lachowska
November 07, 2022 Share this article:
This week we feature Patrycja Lachowska, partner at Accord Group Polska and head of AltoPartners' financial services practice for Poland and the Baltics. A secret introvert and would-be hotelier, the bubbly Patrycja is happiest when buying books and sharing them with friends. In addition to having a wonderful library, she also makes the world's best pierogi.
What was your childhood career dream?
I've always dreamed of owning a guesthouse, and in preparation for this, I chose a hotel technical college for high school. When I was 16, I found an investor for a historic palace in the village where I grew up in Storkowo. My business plan was perfectly prepared, and I won an entrepreneurship competition. Unfortunately, we were a month too late. The palace was bought by another investor. I see it's up for sale again. Perhaps I should reconsider…?
What happened next?
When I graduated from hotel technical school, I enrolled for a management degree at the University of Szczecin in western Poland, before moving to Warsaw, where I continued my studies in accounting and controlling. Then I studied managerial economics at the Warsaw University of Life Sciences and graduated with a master's in economics. Fun fact! I am also a certified masseuse of classic, spa and medical massages.
What was your first job?
I was cleaning buses at night in a bus depot from about age 12. But the first job that allowed me to support my family was when I was 16 years old. I was selling food at the bazaar on the border with Germany.
How did you get into Executive Search - was it by accident or design?
Providence! I was extremely lucky that fate pushed me "into the arms" of good people. After graduating, I answered an ad for a receptionist with the Accord. After three months I was already an executive assistant, and six months later I was playing a support role in my first recruitments. I am extremely grateful to Accord for the opportunity and for their patience and trust in teaching me new things.
Most partners are able to draw on their own corporate experience when making placements. Has the fact that you joined Accord straight from university been an issue for you?
In 2018, I took a three-and-a-half-year sabbatical from the Accord Group to do exactly that! I wanted to extend my theoretical market know-how by gaining hands-on experience in change management and organisational leadership. My first assignment was at Bank Pekao, where I was incredibly proud to receive an award for "outstanding achievements and overall contribution to the management team" and was named a transformation leader by the bank's Strategy & Transformation Division. My next project was as Business Operations Manager for an insurance start-up, where I gained fantastic experience in governance, due diligence, investor relations and IT systems.
What motivates you to do what you do?
The people I meet. From each conversation, I try to get something for myself. I learn every day. It is the best profession in the world – you interact with so many smart people. I am very lucky. Sometimes a search can be very challenging, but each one is rewarding.
What's the best piece of advice you ever got?
I always remember the words of our managing partner, Corinne Klajda, when we were doing our first project together: "Remember that your phone call may change the life of the person you are calling. Even if they are not interested in this project, they may start thinking about changing jobs. Be responsible." And thanks to Lidia Kupidura, our highly skilled head of operations, I have embraced a motto which has stood me in excellent stead: "If you don't ask, you won't find out."
What advice would you give your younger self?
You will not achieve everything in one day. Be patient, be humble. Don't agonise so much.
How do you relax and unwind?
I love cooking and eating. And I buy books, some of which I actually read. As I recently moved to the countryside, I would also have to include walking with my husband in our lovely, wooded village.
Do you have a superpower?
[Laughs]. Of course. But it's a secret.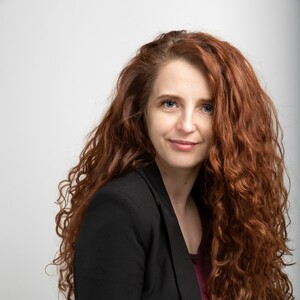 Related Practice