J. Veronica Biggins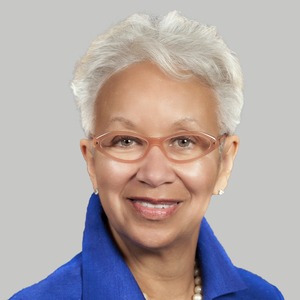 Veronica Biggins is the Managing Partner of the Atlanta office of Diversified Search and Chairs the Board Practice. Veronica has over 15 years of experience as a Senior Partner in executive search.
Veronica previously served as Assistant to the President of the United States and Director of Presidential Personnel under William Jefferson Clinton. She was responsible for selecting and hiring all political appointees within the federal government. In this role, she worked directly with the President on appointments at all levels of the administration, including the placement of agency heads, ambassadors and members of presidential boards and commissions. Veronica served as Vice Chairman of the U.S. Delegation to the United Nations Fourth World Conference on Women in Beijing. When she retired as Chairman of the Czech Slovak American Enterprise Fund, Veronica received a Points of Light award from President George Walker Bush for her leadership of the Fund.
Veronica's background includes 20 years' experience with NationsBank (now Bank of America) and its predecessor, The Citizens and Southern National Bank. Prior to joining the White House, Veronica was one of the highest ranking women in the banking industry, serving as Executive Vice President for Human Resources for the bank.
Veronica serves on the Avnet, Inc. and Southwest Airlines Board of Directors. She was recognized by the Board of Directors Network (BDN) for her advocacy of women on corporate boards. Veronica is a member of the National Association of Corporate Directors Governance Council, and was recently recognized by the NACD as one of the Top 100 Directors for 2015.
Education Harvard, Advanced Leadership Fellow Georgia State University, MEd Spelman College, BA
Articles mentioning J. Veronica Biggins