Santiago Solis Arias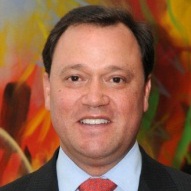 Santiago Solís Arias, General Manager of Executive Connection S.A.S, was partner for the Andean Region based in Bogota of Heidrick & Struggles during four years. Currently, he leads search processes within the sectors of Automotive & Manufacturing, Board Practice, Financial Services, Infrastructure & Utilities, Leadership Consulting, Natural Resourcing and Technology & Telecoms. His experience is especially focused on first and second level positions.
Prior to joining Heidrick & Struggles, Santiago was a Consultant at Spencer Stuart and Boyden in Bogotá, as well as Managing Director of a leading executive search company in Lima, Peru.
Before his search career, Santiago spent several successful years in management leadership roles within recognized companies in the finance and construction sectors. His roles included Commercial Vice President of Central de Inversions SA, a local investment bank, Executive President of FES Valores S.A., a stock broker company and General Manager in Constructora e Inmobiliaria Andina S.A.
He holds a Bachelors of Sciences in Economics from George Mason University at Fairfax, Virginia and Post Graduate studies in Marketing from Universidad ICESI at Cali, Colombia.
Articles mentioning Santiago Solis Arias