Elsa María Solis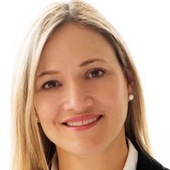 A professional with extensive experience in business management, responsible for positioning the firm in western Colombia as strategic partner for companies in the region in search, selection and evaluation of executive positions.
Prior to joining Executive Connection, she was the Project Manager, of an Education and Entertainment project focused on water conservation through interactive programs that emphasize the integral formation of the individual. Previously, she worked in Sodexo for three years as a Director of Business Development, leading the commercial strategies of the service portfolio of the company for the South West region of Colombia. Complementing her career, she worked for 12 years in Electrical Equipment Company wholesale trade sector, a distributor of electrical and construction industry, construction and sub distribution which started in the commercial area and reaches the General Management Company.
Her academic achievements include the completion of studies such as Business Administration at ICESI University, a Specialization in Marketing from the Universidad Javeriana and an Advanced Management Course at the University of the Andes.
Articles mentioning Elsa María Solis
Executive Connection Colombia Joins AltoPartners: AltoPartners Strategic Growth Despite Tough Economic Conditions
| 02 September 2020